CH. WINUWUK LOOKING FOR LOVE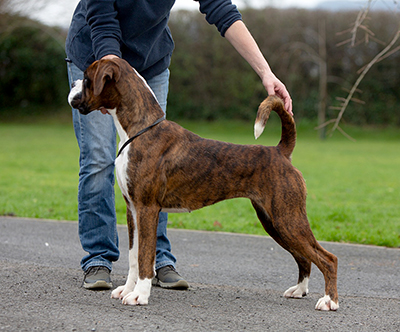 Brindle & White Bitch
Born 8th September 2017
Owned & Bred by Julie Brown & Tim Hutchings
12CC'S 13RCC's
Ch/Ir Ch Winuwuk Lust at First Sight
Ch Winuwuk Lust In The Dust
Ch/Ir Ch Blueprint Beern Skittles at Walkon
Ch Roamaro Scotch Mist of Winuwuk
Ch Winuwuk Storybook
Ch Winuwuk Hot N' Bothered
Winuwuk Love Story
Sulez Seksy Chick at Winuwuk
Ch. Designer Game at Glenauld
Glenauld Games of Skittles
Glenauld Generosa at Carmondene
Winuwuk Rock Chick at Sulez
Ch Lichdel Uncle Silas to Winuwuk
Winuwuk Cool Chick
Sulez Seksy Chick at Winuwuk was proving to be our most successful brood bitch ever and, from just three litters, she has now become the Top Boxer Dam of all time.

For her first litter we had put her to the Max son, Kiss the Girls and this had produced the two champion dogs Ch Winuwuk Kiss Tag with Sulez and Ch Winuwuk Scouting for Girls at Lorrosa.

For her second litter we put her to another Max son, NZ Grand Ch Winuwuk Brief Encounter and this produced Ch Winuwuk Chance Encounter and Ch Winuwuk Brief Affair.

Since she had produced so well to Max sons it made absolute sense for her third and final litter for us to put her to the man himself, by AI.

The litter was smaller than earlier ones, but absolutely full of quality. We kept Looking for Love and In the Name of Lust while Whole Lotta Love went to John Cormack and Veronica Feaver at Sugarwood and Justify My Love went to Jason Jones at Charlons. All four of these puppies won at least one BP at a championship show during 2018.

Looking for Love is called Ziggy at home and she started blooming during her puppy career, regularly winning best puppy or best puppy bitch at championship shows and breed clubs and really being noticed not just for her lovely type but also her outstanding movement. When she was just out of puppy she won her first RCC from Jo Cairns at Belfast in 2018. A few weeks later she was BOB at the SWKA (no CCs) and went on to win G4 under Robin Searle who had been the judge who gave her sire Max his first group at Crufts and his first BIS.

Into 2019 she won a second RCC at Crufts from Keith Jump at Crufts and not long after she won her first CC and BOB at Working and Pastoral Breeds of Wales under Richard Kinsey. A quick second followed from Maggi Bryant at WELKS and then her title came at Bath under Debbie Stansbury on the same day that her brother, In The Name of Lust won the RDCC.

2019 then continued to be very successful with more CCs at National Working and Pastoral, SWKA and Paignton where she was G4 under Jeff Horswell. She also picked up a lot of RCCs.

In 2020 she won the RCC at the first two shows of the year (Manchester under Angela Huxley and the Anglian BC under Yvonne Miller) and she then won the CC & BIS at the South Wales Boxer Club under Caroline Friend-Rees and Barbara Morison. This was the last show before the dreaded coronavirus lockdown started!

After the enforced 14 month break due to coronavirus Ziggy made a successful return to the ring adding another 5 CCs and a RCC to her impressive tally.
Show
Year
Judge
CC: Working & Pastoral Breeds of Wales
2019
Richard Kinsey
CC: WELKS
2019
Maggi Bryant
CC: Bath
2019
Debbie Stansbury
CC: National Working & Pastoral Breeds
2019
Viv Matthews
CC: Paignton
2019
Mandy Vearncombe
CC: SWKA
2019
Suzanne Carter
CC: South Wales Boxer Club
2020
Caroline Friend-Rees
CC: East of England
2021
Ernie Patterson
CC: Midland Boxer Club
2021
Helen Banks
CC: Birmingham National
2021
Ann Ingram
CC: SKC
2021
Walker Miller
CC: Scottish Boxer Club
2021
Wayne Patterson

GROUP PLACINGS

Group 4: SWKA
2018
Robin Searle
Group 4: Paignton
2019
Jeff Horswell