CH. WINUWUK SCOUTING FOR GIRLS AT LORROSA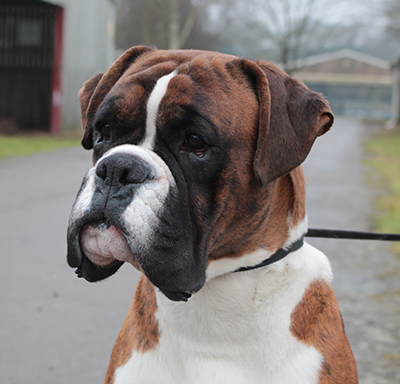 Brindle & White Dog
Born 26th April 2014
Bred by Julie Brown & Tim Hutchings
Owned by Loz Fay-Smith
3CC'S 2 RCC
Ch. Maromad Kiss The Girls at Winuwuk
Ch/Ir Ch. Winuwuk Lust at First Sight
Ch. Winuwuk Lust In The Dust
Ch. Winuwuk Storybook
Maromad Mayhem
Zippo Del Trinitad (Imp Belgium)
Bucksteps Tallulah
Sulez Seksy Chick at Winuwuk
Ch. Designer Game at Glenauld
Glenauld Games of Skittles
Glenauld Generosa at Carmondene
Winuwuk Rock Chick at Sulez
Ch. Lichdel Uncle Silas to Winuwuk
Winuwuk Cool Chick
We have already given our reasoning behind this litter when talking about Kiss Tag on his page.
Once Sue had chosen her puppy we had an enquiry from keen up and coming exhibitor Loz Fay-Smith. We were very pleased to help because we thought that one of the other dog pups in the litter was also extremely promising. Suffice to say, Loz came down and fell in love with Scout.
He had a very nice puppy career which included Best Puppy in Show at the Mancunian Boxer Club championship show and Best Puppy Dog from a huge entry at the Cotswold Boxer Club championship show under Diego Garcia. He then picked up a very competitive RCC from Sigurd Wilberg up in Scotland.
Consistently in the cards and often shortlisted to the final few in the challenge he made the breakthrough at Border Union in 2017 under Claire Kay who awarded him his first CC. Then in September that year he won his second with BOB over at Belfast under Brenda Groves. Not long into 2018 he went to the Anglian Boxer Club and gained his crowning third under Steve McArdle.
Loz is a great campaigner and has really done Scout justice. She listens to advice and acts on it, so she is always upping her game. Scout is extremely well made with a particularly good neck and shoulder and proper forechest. We have enjoyed cheering Loz and Scout on their successful campaign trail.
| | | |
| --- | --- | --- |
| Show | Year | Judge |
| CC: Border Union | 2017 | Claire Kay |
| CC: Belfast | 2017 | Brenda Groves |
| CC: Anglian Boxer Club | 2018 | Steve McArdle |
| | | |