CH. WINUWUK BRIEF AFFAIR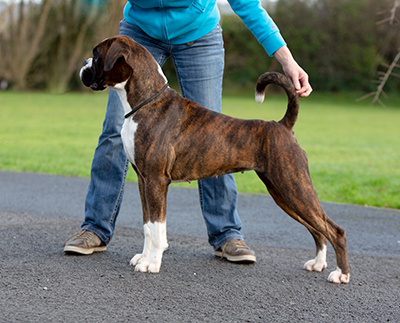 Brindle & White Bbitch
Born 8th January 2016
Owned & Bred by Julie Brown & Tim Hutchings
4CC'S 4RCC's
NZ Grand Ch Winuwuk Brief Encounter
Ch/Ir Ch Winuwuk Lust at First Sight
Ch Winuwuk Lust In The Dust
Ch Winuwuk Storybook
Faerdorn Chick Flick at Winuwuk
Ch Winuwuk Lust In The Dust
Faerdorn After the Show
Sulez Seksy Chick at Winuwuk
Ch. Designer Game at Glenauld
Glenauld Games of Skittles
Glenauld Generosa at Carmondene
Winuwuk Rock Chick at Sulez
Ch Lichdel Uncle Silas to Winuwuk
Winuwuk Cool Chick
The long story behind this mating is given in Ch Winuwuk Chance Encounter's entry earlier in our champions gallery. Chance Encounter and Brief Affair are litter mates.

We always thought of Brief Affair as being 'clasically Winuwuk' with this breathtaking outline, wonderful neck and shoulder. She also has a lovely head with a beautiful expression. She may be unpigmented in one eye, but she still looks at you beautifully.

She soon started catching the eye of judges and was in the last few for the CC at Crufts 2017 before she began picking up RCCs. Her first CC then came on one of our most exciting days ever at the Trent Boxer Club in 2017 where dog judge Eileen Kelly awarded Chance Encounter his first CC and bitch judge Wendy Brooks awarded a first CC to Brief Affair who went on to BIS under Chris Aldham. That 'double-day' will live in our memories forever!

Leah, as we call her (her pedigree name was originally going to be Brief Liaison, but that was not available) went on to win her second CC at Richmond under Marion Campbell the following year before getting made up at the Northern Boxer Club 2019 under Ann Bee. She then added a fourth CC at the Scottish Boxer Club later in the year under Lee Clayforth.
| | | |
| --- | --- | --- |
| Show | Year | Judge |
| CC: Trent Boxer Club | 2017 | Wendy Brooks |
| CC: Richmond | 2018 | Marion Campbell |
| CC: Northern | 2019 | Ann Bee |
| CC: Scottish Boxer Club | 2019 | Lee Clayforth |
| | | |