Ch. WINUWUK CELEBRATION
4 CCs, 6 RCCs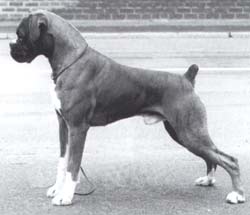 Brindle & White Dog
Born 11th June 1995
Bred & Owned by Marion & Ivor Ward-Davies, Julie Brown & Tim Hutchings

Ch Ashgate
Able Seaman
of Seefeld
Ch Eight Bells of Seefeld
Ch Rupik Bellringer of Seefeld
Isadora of Winterdown
Seefeld Coral Fan
US Import Braemerwood Proclamation of Seefeld
Ch Seefeld Coral Gem

Winuwuk
Samsara

Ch Wrencliff Flying Scotchman of Winuwuk
Ch Norwatch Brock Buster
Ch Wrencliff Let's Try Again
Rose Rumpus of Winuwuk
Red Leader of Winuwuk
Sontana Red Dawn
Following the success we achieved when mating Winuwuk Flirtation to Able Seaman, (which gave us Ch. Winuwuk Jubilation) we really didn't have any decision to make when choosing a stud dog for Samsara. She was a very lovely headed bitch with a beautiful eye who, on paper, was bred exactly the same way as Flirtation - both by Flying Scotchman and their mothers were sisters. She just had to go to Able Seaman.
The resulting litter contained a dog who was easy to overlook in some respects since, like his father, he was very sparingly marked. However, he increasingly caught our eye and also the eye of some visiting Norwegians who took a fancy to him. Eventually we were persuaded to sell him and 'Winuwuk The Viking', or Toby as we knew him, was destined for a new show home in Scandinavia.
Then disaster struck when Toby and two Bulldog puppies were stolen from our kennels. We got one of the Bulldogs back pretty quickly, but Toby was missing for a couple of months before he was returned to us by the police. Such was the celebrating on his safe return that he acquired a new name and he was now not going to be sold anywhere: he would spend his days at Winuwuk. He'd had enough excitement and drama to last him a lifetime!
Toby turned into a beautifully made dog whose construction is very difficult to fault and we feel very lucky to own him. His very laid back temperament was not always his greatest asset in the show ring but, this aside, we certainly consider him to be one of the best Boxers that we have ever had in the kennel. Andrew Brace summed him up so well in his critique after judging at the Working Breeds Association of Scotland. In Andrew's eyes Toby was technically just about the best Boxer he had ever judged, but he just wished that he would 'give' a bit more in the ring. We couldn't disagree with that but for sheer breed type and construction he is a very hard dog to get past.
He had a great puppy career with several competitive Best Puppy awards and a first Reserve CC at WELKS from Margaret Everton. He was then one of the top winning Juniors in 1996 with more Reserve CCs coming his way.
He had a relatively quiet 1997, but 1998 started with a bang when he won the National Boxer of the Year finals in Cheltenham under Lynette Davey, Rita Williams and Margaret Everton, beating all the top winners from the previous year. That win was a real thrill for us since Scotch Mist had won the same award just two years previous.
Fresh from this success, he was then made up very quickly in the early months of 1998. Andrew Thomson started him off with the CC and BIS at the Northern Boxer Club, Eddie Banks gave him a second the following month and then a few weeks later he won his title under Peggy Haslam at the Mancunian.
We considered that to win through under these three people who have been so involved with Boxers at the highest level for so many years was a great achievement and we are so proud of Toby's CCs. He then confirmed his title with the CC at Manchester from Helen Banks, another Boxer person 'through and through'.
Show
Year
Judge
CC: Northern Boxer Club
1998
Andrew Thomson
CC: Birmingham National
1998
Eddie Banks
CC: Mancunian Boxer Club  
1998
Peggy Haslam
CC: Manchester
1999
Helen Banks
Boxer of the Year


1998


Lynette Davey
Margaret Everton
Rita Williams