CH. WINUWUK CHANCE ENCOUNTER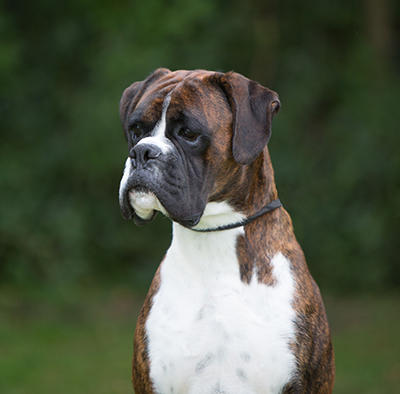 Brindle & White Dog
Born 8th January 2016
Owned & Bred by Julie Brown & Tim Hutchings
5CC'S 4RCC's
NZ Grand Ch. Winuwuk Brief Encounter
Ch/Ir Ch. Winuwuk Lust at First Sight
Ch. Winuwuk Lust In The Dust
Ch. Winuwuk Storybook
Faerdorn Chick Flick at Winuwuk
Ch. Winuwuk Lust In The Dust
Faerdorn After the Show
Sulez Seksy Chick at Winuwuk
Ch. Designer Game at Glenauld
Glenauld Games of Skittles
Glenauld Generosa at Carmondene
Winuwuk Rock Chick at Sulez
Ch. Lichdel Uncle Silas to Winuwuk
Winuwuk Cool Chick
Having produced two champion males in her first litter (to Kiss the Girls, a Lust at First Sight son) it was quite clear that Seksy Chick was an excellent producer.

Hoping for continued success we decided to mate her to another Lust at First Sight son for her second litter and this was quite a logistical challenge since the dog we really wanted to use was 12,000 miles away in New Zealand. We had exported NZ Grand Champion Winuwuk Brief Encounter a few years before and he had enjoyed a spectacular career and was obviously an excellent sire as well.

Cutting a long story short, we imported semen back to the UK and the mating was done by AI. When the pups arrived we were extremely excited. We kept a dog and a bitch and they really do represent the type of Boxer that we really like. They enjoyed a really good start to their careers and Chance ended his puppy career by going Best Puppy at Midland Counties under Yolanda Tonkin and LKA under Barbara Murray. Into 2017 it was not long before he was knocking at the door. He was in the last few for the ticket at the South Wales Boxer Club in March and regularly after that. He was still in yearling on the day that he won his first CC at the Trent Boxer Club under Eileen Kelly and, making that one of our most memorable days of all time, his litter sister won the bitch CC on the same day under Wendy Brooks.

Just a month later up in Scotland he won his second CC under Greg Dowell and then exactly one month later again, he won his third (with BOB) at the LKA under Laura Clark.
Chance just thrills and excites us. We love his beautiful unexaggerated outline, his height at withers, his beautiful clean front with excellent bone and his overall quality. He has a lovely clean head of correct length and a very good expression. He is a lovely dog to have at home and a real show dog.
| | | |
| --- | --- | --- |
| Show | Year | Judge |
| CC: Trent Boxer Club | 2017 | Eileen Kelly |
| CC: Working & Pastoral Breed Association of Scotland | 2017 | Greg Dowell |
| CC: LKA | 2017 | Laura Clark |
| CC: WKC | 2018 | Rony Doedijns |
| CC: SKC | 2018 | Lorraine Ratter |
| | | |