Ch. Belvern Demetrius
3 CCs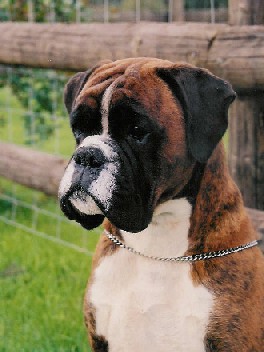 Brindle & White Dog
Born 11th July 2000
Bred by Vicky Bell and Mark Beardow
Owned by Marion Ward-Davies, Julie Brown & Tim Hutchings

Ch. Surfstone Hot
Property
Ch. Tyegarth Pacherenc at Seacrest
Tyegarth Attitude Adjuster
Tyegarth Fogcutter
Tyegarth Whisky Galore
Glenfall Infamous Plonk
Ch. Tyegarth Famous Grouse
Dutch Imp Anja Von Dommeldal at Glenfall
Surfstone Susannah
Ch. Santonoaks Robbie Redcoat
Ch. Norwatch Glory Boy of Rayfos
Santonoaks Gorgeous Gussie
Surfstone Madeline
Ch. Norwatch Brock Buster
Chellowside Dainty Lady
Belvern
So Elite
Bucksteps Back To Basics at Daltamie
Ch. Glenfall The Gladiator
Ch. Kinbra Uncle Sam of Winuwuk
Glenfall Amber Spirit
Bucksteps Hot Gossip
Ch. Carinya Rye N Dry
Bucksteps Easy Virtue
Elite Amber of Belvern
Roamaro Beaujolais
Ch. Tyegarth Pancherenc at Seacrest
Jenroy Popsicle for Belmont
Surfstone Private Passion
Ch. Private Eye at Blupines
Surfstone Susannah
Murphy was a dog that we had always admired from the ringside for his completely unexaggerated, honest breed type. Vicky and Mark had won a first CC with him in October 2002 from the UK's top all-breed judge Terry Thorn and then a very quick second up in Scotland at the Working Breeds in November from Belgian judge Peter Van Montfoort. On that day he had also gone on to win a good Group Three placing.
He had a quiet 2003 but Julie then judged him at Manchester right at the start of 2004 and had gave him a really good Limit Class, also keeping him in the last few for the CC. It was not long after Manchester that Vicky had mentioned to Julie that as they had so many dogs that they wanted to show they were thinking about letting Murphy go into a pet home. This was too good an opportunity to miss and it was quickly agreed that Murphy should come to live at Winuwuk and that we would campaign him in partnership.
We enjoyed some great times with Murphy in the ring and, later in 2004, we took him over to the Irish weekend in Belfast. We were absolutely delighted when Shirley Butters gave him his third and qualifying CC at the Irish Boxer Club. There was much celebrating in Belfast that night!
Early in 2005 it was then a real thrill when Murphy was the 2nd placed male at the Dog of the Year Finals in February.

Now that he is entering retirement from the show ring we own him outright at Winuwuk.
Show
Year
Judge
CC: Driffield
2002
Terry Thorn
CC: WPBAS
2002
Peter Van Montfort
CC: Irish Boxer Club
2004
Shirley Butters

Group Placings

Group 4: WPBAS
2002
Peter Van Montfort