Ch. WINUWUK GOOD GOLLY
25 CCs, 22 RCCs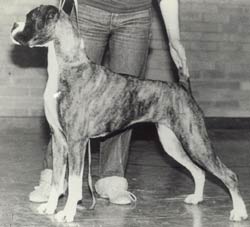 Brindle & White Bitch
Born 23rd June 1978
Bred & Owned by Marion & Ivor Ward-Davies
US Import
Winuwuk Milray's Red
Baron of Valvay

Int Ch. Scher-Khoun's Abednego
Int Ch. Scher-Khoun's Shadrack
Int Ch. Scher-Khoun's Carousel
Milray's Flame of Candlewood
US Ch. Holly-Lane's Winter Forecast
Candlewood's Cinderella
Goodness
Gracious
of Winuwuk

US Import Kreyon's Back
in Town of Winuwuk
Int Ch. Scher-Khoun's Shadrack
US Ch. Kreyon's Firebrand
Branns Tartan Sash
Tartan Tiger of Skelder
Branns Flying Start
Golly will forever be remembered for her exceptional showmanship and her stunning outline. By Baron out a Mack daughter, she really did provide proof positive that all the hard work in bringing the two American dogs in had been worth it and Golly was Marion and Ivor's pride and joy.
She was a big winner from an early age, winning her first CC at the British Boxer Club under the American judge, Peter Baynes when she had only just left the puppy classes. Her title swiftly followed and she was made up at Crufts, 1980 by Peter Perrett. During the remainder of that year, she swept all before her and she finished up as the Top Boxer 1980 by some margin winning 11 CCs in the year. One really major win for her was her CC from a record entry at the Mancunian Boxer Club from the world famous Boxer handler, now judge, Jane Forsythe who gave her a lovely critique.
Golly won the prestigious British Boxer Club Champion of Champions trophy on two occasions and she was placed in Groups and in the hotly contested Champion Stakes. For a decade she held the record as the Top Winning Brindle Bitch of all time until this was taken from her by another Winuwuk, Scotch Mist.
She won her last CC at Darlington when she was not far off the Veteran classes, and she made a final appearance at the Cotswold Boxer Club later in the same year when she won the Reserve CC from the American judge Harriett Campbell.
Golly was a truly exceptional Boxer and it is very interesting to note that her CCs were won under both specialist and all-rounder judges from America, Holland and the UK proving the universal appeal of correct Boxer type.

CHALLENGE CERTIFICATES

Show
Year
Judge
CC: British Boxer Club
1979
Peter Baynes
CC: Scottish Kennel Club 
1979
Sheila Law
CC: Crufts
1980
Peter Perrett
CC: Midland Boxer Club
1980
Pat Heath
CC: Tyne, Wear & Tees B.C. 
1980
Wilson Wiley
CC: Mancunian Boxer Club
1980
Jane Forsythe
CC: Bath
1980
Marian Fairbrother
CC: Leeds
1980
Audrey Jenkinson
CC: Three Counties
1980
Bobbie Singleton
CC: Scottish Kennel Club
1980
Cora Donaghue
CC: Darlington
1980
Valerie Garratt
CC: Belfast
1980
Joy Malcolm
CC: London & Home Cos B.C. 
1980
Reg Hill
CC: Manchester
1981
Ernie Dawson
CC: Scottish Kennel Club
1981
John Hambleton
CC: South Western B.C.
1981
Bobby James
CC: Irish Boxer Club
1981
Lily Potts
CC: Cotswold Boxer Club
1981
David Spencer
CC: WELKS
1982
Tom Horner
CC: Birmingham National
1982
Anton Renders
CC: Border Union
1982
Ferelith Hamilton
CC: Paignton
1982
Betty White
CC: Scottish Kennel Club
1983
Sigurd Wilberg
CC: City of Birmingham
1983
Sue Harvey
CC: Darlington
1984
Raymond Beattie

GROUP PLACINGS

Reserve Group: Manchester
1981
Tom Horner