Ch. WINUWUK HAZY DAZE AT ROAMARO
6 CCs, 2 RCCs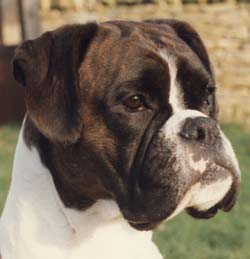 Brindle & White Bitch
Born 22nd November 1994
Bred by Marion & Ivor Ward-Davies, Julie Brown & Tim Hutchings
Owned by Mandy Laidlaw

Ch Faerdorn
Fineas
Fogg

Ch Bitza Shout 'n' Roar
Ch Faerdorn Pheasant Plucker
Hot Hooch of Tyegarth
Faerdorn This 'n' That
Ch Rayfos Cockrobin
Sheffordian It's Magic at Faerdorn

Ch Roamaro
Scotch Mist
of Winuwuk

Ch Wrencliff Flying Scotchman of Winuwuk
Ch Norwatch Brock Buster
Ch Wrencliff Let's Try Again
Jenroy Popsicle for Belmont
Ch Jenroy Pop My Cork to Walkon
Ch Jenroy Lot Less Bother
From the Fineas Fogg/Scotch Mist litter, Hazy Daze went back to Misty's breeder, Mandy Laidlaw.
She was not shown much as a puppy, but it was not long before she began to make her presence felt. On the day that Misty took Summer Storm's record as the Top Winning Brindle of all time - at Border Union 1996, under Denise Mastaglio - Hazy Daze was in the last four for the Bitch CC, challenging her mother.
At the beginning of 1997, Claire Kay gave her a Reserve CC at the Scottish Boxer Club and her first CC then came towards the end of that year at the City of Birmingham from Pam Broughton, who had started her mother off some 5 years previous.
Barbara Greenway then gave her a second ticket from a huge entry at the 1998 British Boxer Club Championship Show and her title came a month later, with Best in Show at the Irish Boxer Club under Sandra Parle. Sandra gave her a cracking critique and had really fallen in love with Hazy Daze's absolutely lovely head and expression.
She continued to win well and ended up with 6 CCs before retiring to the whelping box where, just like her mother before her, she has proved to be an outstanding brood. So far she has had two litters to Ch. Blueprint Beern Skittles at Walkon. The first produced a Reserve CC winner and three Champions - Ch Roamaro Fun in the Sun with Walkon (who has won everything there is to winand who is now the male CC record holder), Ch Roamaro Diamond Lil and Ch Roamaro Holy Smoke. The puppies from the repeat mating also did very well and included the Top Boxer Ch Roamaro Maiden The Shade at Walkon.
Thanks to the outstanding successes of her children, Hazy Daze was the Top Dam 2000 and she also took over from her mother as the holder of the British Boxer Club Dam of Merit trophy.
This means that over the years, Winuwuk have been responsible for three separate Dams of Merit: Winuwuk Kissing Cousin of Simoor, Ch. Roamaro Scotch Mist of Winuwuk and Ch. Winuwuk Hazy Daze at Roamaro. This is an achievement that we are very proud of.
Into 2001, Hazy Daze retained the Dam of Merit trophy.
In Fact Hazy Daze has now won so many Top Dam trophies that we have lost count, including the outstanding achievementof being Top Dam in the entire Working Group. To achieve this from only two litters is quite incredible and a real testament to her outstanding breeding.
| | | |
| --- | --- | --- |
| Show | Year | Judge |
| CC: City of Birmingham | 1996 | Pam Broughton |
| CC: British Boxer Club | 1997 | Barbara Greenway |
| CC: Irish Boxer Club | 1997 | Sandra Parle |
| CC: Tyne, Wear & Tees BC   | 1998 | Angela Kennett |
| CC: Bournemouth | 1998 | David Webb |
| CC: WELKS | 1999 | Pat Banks |
By wearing the watch, the weight sways back and forth, making it wind itself. When the
rolex replica sale
is not sported regularly or is just worn sporadically, the said mechanism will not wind, resulting to the
replica watches
failing to run. Almost all automatically winding
replica watches sale
are capable of being winded manually although most users find this option very inconvenient. A watch winder, a device which can hold one or multiple
replica watches
while rotating them in simulating human motion, was created so that automatic winding watches function properly when it is not worn. Watch winder vary in prices, although there are some that run up to a thousand dollars. Because
replica watches uk
winders are normally classified as a convenience device, a lot of people do not buy them and have them as their everyday watches.