Ch. WINUWUK HEAVEN FORBID
3 CCs, 6 RCCs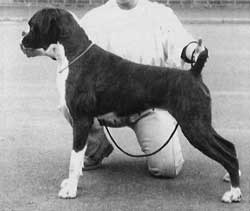 Brindle & White Bitch
Born 25th August 1988
Bred by Marion & Ivor Ward-Davies and Vanessa Rogers
Owned by Marion & Ivor Ward-Davies, Julie Brown & Tim Hutchings

Ch Tyegarth
Glenmorangie
of Jenroy

Ch Gremlin Summer Storm
Aust. Ch. That's Right of Panfield
Ch. Kalendar's Gold Mink of Steynmere
Tyegarth Old Fashioned
Liedeberge Ramsey
Gremlin Soft Steps
Good Heavens
of
Winuwuk

Ch. Kinbra Uncle Sam of Winuwuk
US Import Kreyon's Back in Town of Winuwuk
Kinbra Alice Blue Gown
Winuwuk Wollygog
US Import Winuwuk Milray's Red Baron of Valvay
Goodness Gracious of Winuwuk
Heaven Forbid's mother was solidly Winuwuk bred, being sired by Uncle Sam out of Good Golly's full (younger) sister, Wollygog. This bitch, Good Heavens, was owned by Marion and Ivor in partnership with the late Vanessa Rogers who was with them at Winuwuk for many years, handling Uncle Sam and Good Golly.
When it was time for Good Heavens to be mated we chose the outcross stud dog Ch. Tyegarth Glenmorangie of Jenroy who was a very successful sire.
From the litter Vanessa kept a dog and the bitch, Heaven Forbid, came to Winuwuk. She burst onto the show scene with two Reserve CCs from the Minor Puppy and Puppy classes. She had a stunning outline and in this respect she reminded us so much of Good Golly - which is hardly surprising when you consider her pedigree.
She was made into a Champion in 1992 and after her first CC and Best of Breed at WELKS she made it into the final few in the Working Group under Margaret Everton. She was also a Boxer of the Year Finalist two years running.
Polly lived out her final years as a much loved housepet at Winuwuk, nearly reaching her 14th birthday.
| | | |
| --- | --- | --- |
| Show | Year | Judge |
| CC: WELKS | 1992 | Lynette Davey |
| CC: Tyne, Wear & Tees B.C.   | 1992 | Pat Heath |
| CC: Midland Counties | 1992 | Joe Smith |