Ch. WINUWUK HOT 'N' BOTHERED
4 CCs, 2 RCCs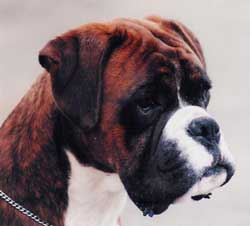 Brindle & White Dog
Born 15th December 1998
Owned & Bred by Marion Ward-Davies, Julie Brown & Tim Hutchings


Ch Winuwuk
Lust in
The Dust

Ch Blueprint Beern Skittles at Walkon
Jenroy Pop Back to Walkon
Aust. Grand Ch. Walkon Skittles
Ch Roamaro Scotch
Mist of Winuwuk
Ch Wrencliff Flying Scotchman of Winuwuk
Jenroy Popsicle for Belmont


Ch Winuwuk
Jubilation

Ch Ashgate Able
Seaman of Seefeld
Ch Eight Bells of Seefeld
Seefeld Coral Fan
Winuwuk Flirtation
Ch Wrencliff Flying Scotchman of Winuwuk
Reflections of Winuwuk
Ch. Winuwuk Jubilation had been a very good producer for us, giving us Ch. Winuwuk Inspiration of Newlaithe from her first litter to Winuwuk Highland Mist. When we came to mate her again, we felt that Lust in the Dust would be good for her and as an added bonus, this was good line-breeding on Ch. Wrencliff Flying Scotchman of Winuwuk. We certainly had high hopes for the litter which was born just before Christmas in 1998. 'Evans' took our eye from the start and we were very excited by him. He certainly did seem to have inherited the best qualities from each of his parents.
He was always going to be a slow maturer and although he did win his very first Championship Show Minor Puppy class under Walker Miller at Border Union, he spent most of his puppy days being 'there or thereabouts' rather than winning everything and we quite understood this. He was a tall, gangly lad who was slowly going to get things together. In June 2000, Val Pack-Davison rewarded him with his first Reserve CC at Southern Counties and he was also in the last few for the CC at the Midland Boxer Club (where the famous Italian judge Paola Watten gave him a fabulous critique) and also at the Trent Boxer Club.
Into 2001 he won Limit dog at Manchester and also at the Midland where he was in close contention for top honours on the same day that his half-sister Ch. Winuwuk Inspiration of Newlaithe was Best in Show under the German authority Inge Gerwin. The Foot and Mouth postponements then got in the way of his campaign, but at the delayed Working and Pastoral Breeds Association of Wales in June Margaret Wildman gave him his first CC. Then a month later at the National Working and Pastoral Breeds he won his second CC and BOB from a fabulous entry under Betty Lawson-Whyte and Ferelith Somerfield.
More Limit Dog wins followed at Driffield, the Scottish Boxer Club and then at the Working and Pastoral Breeds Association of Scotland where he won his crowning CC under Jenny Whittaker. The following week, to cap a great year, he won another Limit class and the RCC under Shirley Butters at the South Western Boxer Club Championship Show. As well as his title, his very successful year in 2001 ensured him a clear qualifying place in the National Dog of the Year finals.
We have always really appreciated Evans' beautifully balanced head with strong muzzle, such clean cheeks and a clearly defined chin. He also benefits from a lovely balanced outline and extremely accurate movement. We had high hopes for him as an important dog in our future breeding programme with his excellent pedigree and his true, unexaggerated breed type.
However disaster struck in Summer 2004 when Evans had to be castrated due to severe prostate troubles. With a lot of winning children in the ring already that was a real blow, but the dog's health had to come first and he is now happy in retirement as Marian's house pet and constant companion.


The primary reason people choose to purchase a
replica watches sale
over an authentic watch is the obvious price difference. An authentic Rolex can cost you upwards of tens of thousands of dollars. Why spend that money on watch, when you can get an
replica watches
quality time piece that is as close to the real thing as possible? Use your savings for a vacation or a new vehicle, and still enjoy the class and quality you can have by wearing a
replica watches uk
. The reputation that upholds the Rolex name still stands true even for a Rolex replica watch. The Rolex name is known as the best
replica watches
brand that money can buy. It is a symbol of elegance ad class. You can still choose to participate in the benefits offered by the Rolex name by wearing a
rolex replica sale
timepiece that carries all of the same features of the original, minus the price tag.
| | | |
| --- | --- | --- |
| Show | Year | Judge |
| CC: WPBAW | 2001 | Margaret Wildman |
| CC: NWPB | 2001 | Betty Lawson-Whyte |
| CC: WPBAS | 2001 | Jenny Whittaker |
| CC: Southern Counties | 2002 | Ann Wildman |