Ch. WINUWUK INSPIRATION OF NEWLAITHE
5 CCs, 1 RCC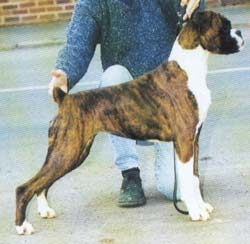 Brindle & White Bitch
Born 16th March 1997
Bred by Marion & Ivor Ward-Davies, Julie Brown & Tim Hutchings
Owned by Christine Beardsell

Winuwuk
Highland Mist
of Glenauld

Ch Faerdorn
Fineas Fogg
Ch Bitza Shout 'n' Roar
Faerdorn This 'n' That
Ch Roamaro Scotch
Mist of Winuwuk
Ch Wrencliff Flying Scotchman of Winuwuk
Jenroy Popsicle for Belmont


Ch Winuwuk
Jubilation

Ch Ashgate Able
Seaman of Seefeld
Ch Eight Bells of Seefeld
Seefeld Coral Fan
Winuwuk Flirtation
Ch Wrencliff Flying Scotchman of Winuwuk
Reflections of Winuwuk
As Jubilation was the result of an outcross mating, we really wanted to bring her back to one of our own stud dogs and we decided that Highland Mist was a good choice. He came from the very successful Scotch Mist/Fineas Fogg litter, he was a nicely short coupled dog and he was bred to produce lovely heads and good pigmenation. He was also a real extrovert with the delightful temperament that you would expect from Fineas Fogg and Misty.
In short, Jubilation and Highland Mist seemed to be a very well matched pair and we were looking forward to the puppies enormously. A dark brindle and white bitch appealed to us very much indeed with her very pretty head and her smart outline.
Keeping on the '-shun' theme, she was called Inspiration and at one of her first shows she was Best Puppy in Show at the Cotswold Boxer Club Championship Show under Sue Drinkwater from over 100 puppies. However, with so many to show at this time, we were concerned that we were not doing her justice and when Christine Beardsell asked if she could buy her in April 1999 we agreed, knowing that she would have a lovely home and that Chris would get her to many more shows and really campaign her well. After a difficult few years when Chris had unfortunately lost her husband, she was really looking for something very good to get her back into the shows and so 'Poppy' went to Newlaithe.
In no time at all, she had won her first Reserve CC at the Tyne, Wear and Tees Boxer Club in May under Paul Russell and then at the Three Counties a month later, Mary Foan gave her the CC. A second soon followed from Ruth Perrett at the Welsh Kennel Club before Ann Podmore made her up at the Working Breeds of Scotland in November.
It really had been a whirlwind success story and we were so pleased for Chris. Into 2001, it was a real thrill when Inspiration won her 4th CC and went Best in Show at the Midland Boxer Club Championship Show in February under the respected German authority Inge Gerwin. Charles Walker then added a fifth at Birmingham National.
| | | |
| --- | --- | --- |
| Show | Year | Judge |
| CC: Three Counties | 1999 | Mary Foan |
| CC: Welsh Kennel Club   | 1999 | Ruth Perrett |
| CC: WBAS | 1999 | Ann Podmore |
| CC: Midland Boxer Club  | 2001 | Inge Gerwin |
| CC: Birmingham National   | 2001 | Charles Walker |
The primary reason people choose to purchase a
replica watches sale
over an authentic watch is the obvious price difference. An authentic Rolex can cost you upwards of tens of thousands of dollars. Why spend that money on watch, when you can get an
replica watches
quality time piece that is as close to the real thing as possible? Use your savings for a vacation or a new vehicle, and still enjoy the class and quality you can have by wearing a
replica watches uk
. The reputation that upholds the Rolex name still stands true even for a Rolex replica watch. The Rolex name is known as the best
replica watches
brand that money can buy. It is a symbol of elegance ad class. You can still choose to participate in the benefits offered by the Rolex name by wearing a
rolex replica sale
timepiece that carries all of the same features of the original, minus the price tag.