Ch Maromad Kiss The Girls At Winuwuk

3CCs, 2 RCCs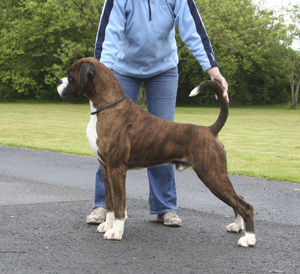 Brindle & White Dog
Born 8th May 2010
Owned by Julie Brown & Tim Hutchings
Bred by Malcolm James

Ch. Winuwuk Lust at First Sight
Ch. Winuwuk Lust in the Dust
Ch. Blueprint Beern Skittles at Walkon
Jenroy Pop Back to Walkon
Aust. Grand Ch. Walkon Skittles
Ch. Roamaro Scotch Mist of Winuwuk
Ch. Wrencliff Flying Scotchman of Winuwuk
Jenroy Popsicle For Belmont
Ch. Winuwuk Storybook
Ch. Winuwuk Hot 'N' Bothered
Ch. Winuwuk Lust in the Dust
Ch. Winuwuk Jubilation
Winuwuk Love Story
Ch. Winuwuk Celebration
Winuwuk Love In The Mist
Maromad Mayhem
Zippo Del Trinitad
(Imp. Belgium)
Nick Del Nettuno
Int. Ch. Teck Del Colle Dell Infinito
Fun v. Victoria's Stardust
Xarline Del Trinitad
Ch Vaso Van de Hazenberg
Rahni Del Trinitad
Bucksteps Tallulah at Maromad
Ch Bucksteps Charlie Brown
Ch. Carinya Rye N' Dry
Bucksteps Easy Virtue
Bucksteps Evita
Ch. Walkon Crocodiledun Dee
Ch. Bucksteps Bittersweet
When Malcolm James brought his bitch to be mated to Lust at First Sight we were very interested by her cosmopolitan pedigree which combined some good old British lines with a touch of continental influence. It was something a bit different for us and when the litter was born we were drawn to a very smart, beautifully made dog puppy and we asked Malcolm if we could have him.
He won his very first minor puppy class at the South Western Boxer Club Championship Show under Jean Lanning and we were thrilled with how he was progressing. He has always had this beautifully made front assembly, super neck and great balance. Into junior he won his first CC from Peter Jolley at Bournemouth and he also qualified for Dog of the Year in 2011.
Having matured beautifully Jordi started 2013 with a bang, winning Limit Dog at Manchester under Wendy Brooks and making it down to the final few for the CC. He did the same just a few weeks later at the Anglian Boxer Club under Jenny Townshend. At WELKS in April he was awarded his second CC and Best of Breed by Carol Green and then, just a month later her returned to the Three Counties Showground to win his third and crowning CC from Lesley Wearing. He also went Best of Breed and made it down to the final few in Christina Chapman's working group.
We are delighted that Jordi has made it to the upper house and he continues to please us enormously with his outstanding construction, his excellent movement and his lovely eye and expression.
CHALLENGE CERTIFICATES

Show
Year
Judge
CC: Bournemouth
2011
Peter Jolley
CC: WELKS
2013
Carol Green
CC: Three Counties
2013
Lesley Wearing