Ch. WINUWUK LOVE STRUCK
3 CCs, 3 RCCs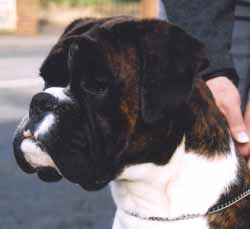 Brindle & White Bitch
Born 7 January 1999
Bred by Mrs Lloyd
Owned by Marion Ward-Davies, Julie Brown & Tim Hutchings

Ch. Winuwuk
Lust in
the Dust

Ch Blueprint Beern
Skittles at Walkon

Jenroy Pop Back to Walkon
Aust. Grand Ch. Walkon Skittles
Ch Roamaro Scotch
Mist of Winuwuk
Ch Wrencliff Flying Scotchman of Winuwuk
Jenroy Popsicle for Belmont


Winuwuk
Acclamation

Ch Ashgate Able
Seaman of Seefeld
Ch Eight Bells of Seefeld
Seefeld Coral Fan
Winuwuk Flirtation
Ch Wrencliff Flying Scotchman of Winuwuk
Reflections of Winuwuk
Chelsea's mother, Winuwuk Acclamation, was a very nicely made and typey red bitch who was litter sister to our own Ch. Winuwuk Jubilation. We had sold her on breeding terms to the Lloyds who lived locally, right at the top end of Stroud.
When it was time for Acclamation to be mated, Ch Winuwuk Lust in the Dust was just starting to put some very nice youngsters into the ring and we felt that he would be the right dog for her. He was very solidly bred and as Acclamation was by an outcross dog we were keen to bring her back into our own line. We just had a feeling that it was the right thing to do - the breeding was right and we felt that the type was right.
A super litter resulted early in 1999 and we were very keen to see the pups. Like her sister, Acclamation was a very good mother and the Lloyds had the pups in a warm and cosy outhouse where mother and babies were thriving. We vividly remember setting the pups up on a bale of hay in their whelping quarters and even at a very young age, we felt that we had some stars in the making.
So it was that Winuwuk Love Struck came to live with us along with her sister, Winuwuk Kiss n Make Up who subsequently went to the Soilands in Norway.
Chelsea enjoyed a quick start to her career and she caught the eyes of the judges from an early age. Val Pack-Davison started her of with a Reserve CC at Southern Counties in June 2000 and this was followed by a quick second from Yvonne Miller at the British Boxer Club later in the Summer, from a fabulous line-up. She then did not have long to wait until her first CC which was awarded by Pat Banks at the LKA in December immediately followed by a second from Keith Jump at Manchester right at the start of 2001. The lack of shows due to the Foot and Mouth crisis then slowed up her campaign but her title soon came, in August 2001, from Walker Miller at Bournemouth.
We have always appreciated Chelsea's super breed type. She is 110% Boxer with a beautiful expression and the sort of outline that we really like. We are very lucky to have her in our kennel.

| | | |
| --- | --- | --- |
| Show | Year | Judge |
| CC: LKA | 2000 | Pat Banks |
| CC: Manchester | 2001 | Keith Jump |
| CC: Bournemouth | 2001 | Walker Miller |
It is also necessary to consider ease of use and the quality of the workmanship. Cheaper
replica watches uk
winders can be noisy. For watch box or case, consider how it will be used. Will the owner be traveling with it? Then look for sturdy, secure construction. Is the owner a
replica watches sale
collector who enjoys displaying his or her collection? Then choose an elegant model with a clear glass lid. Check the quality of the hinges and examine how well the lid closes. If the
replica watches sale
box is meant for travel, make sure the unit closes and locks securely.Self-winding mechanical
rolex replica sale
are also known as automatic watches. These watches require a
rolex replica sale
winder in order for it to run appropriately. Automatic watches have to be worn consistently since they rely on the mechanical weight located inside the watch.