Ch. SULAK LUCKY STRIKE OF WINUWUK
3 CCs, 4 RCCs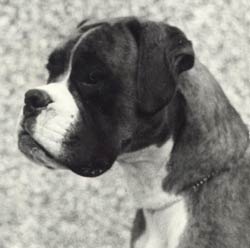 Brindle & White Dog
Born 26th January 1978
Bred by Mr & Mrs Merrett
Owned by Marion & Ivor Ward-Davies, then later by Jim Gardner
USA Import
Kreyon's Back in
Town of Winuwuk

Int Ch. Scher-Khoun's Shadrack
Int Ch. Millan's Fashion Hint
Int. Ch. Scher-Khoun's Carousel
US Ch. Kreyon's Firebrand
US Ch. Cajon's Calling Card
Bartizan's Jewel
Sulak
Pirate
Treasure

Maranade Buccaneer
Maranade Black Prince
Winter Sunshine of Maranade
Tanisdoor Alice Springs
Kirzis Captain Scarlet
Beeches Girl Tris
Lucky Strike was bought in from his breeders Mr & Mrs Merrett and he won his first CC, with Best of Breed, at a young age when Mary Foan judged her first Championship Show at Three Counties. His second followed from Marian Fairbrother at the Scottish Kennel Club.
At the same time as we were campaigning 'Tanky', the kennel was going great guns with Ch. Winuwuk Good Golly and, of course, we also had Uncle Sam. As a result of this, Lucky Strike went to live with Jim Gardner in Ireland and, fittingly, it was in Ireland that Tanky won his qualifying CC at the Irish Boxer Club on the same day that the judge Lily Potts also gave Good Golly the Bitch CC and Best in Show.
Tanky was not used at stud as the hereditary defect, PA, had reared its ugly head by this stage and Tanky had a known carrier in the 4th generation of his pedigree.
| | | |
| --- | --- | --- |
| Show | Year | Judge |
| CC: Three Counties | 1979 | Mary Foan |
| CC: Scottish Kennel Club     | 1981 | Marian Fairbrother |
| CC: Irish Boxer Club | 1981 | Lily Potts |