Ch. WINUWUK LUST IN THE DUST
3 CCs, 2 RCCs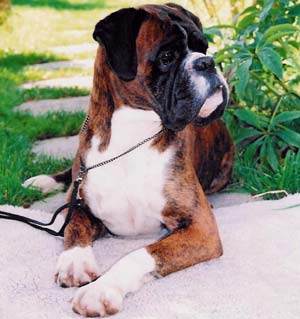 Brindle & White Dog
Born 7 August 1996
Owned & Bred by Marion Ward-Davies, Julie Brown & Tim Hutchings
Ch. Blueprint
Beern Skittles
at Walkon
Jenroy Pop Back to Walkon
Ch. Jenroy Pop My Cork to Walkon
Ch. Tyegarth Glenmorangie of Jenroy
Jenroy Whoopsie Daisy
Ch. Jenroy Lot Less Bother
Ch. Norwatch Brock Buster
Ch. Bucksteps Bit O Bother at Jenroy
Aust. Grand Ch. Walkon Skittles
Ch. Glenfall The Gladiator
Ch. Kinbra Uncle Sam of Winuwuk
Glenfall Amber Spirit
Ch. Walkon Smash'd Again
Ch. Tyegarth Glenmorangie of Jenroy
Walkon Wotta Smasha
Ch. Roamaro
Scotch Mist
of Winuwuk
Ch. Wrencliff Flying Scotchman of Winuwuk
Ch. Norwatch Brock Buster
Ch. Steynmere Night Rider
Norwatch Mustang Wine
Ch. Wrencliff Let's Try Again
US Imp Winuwuk Milray's Red Baron of Valvay
Wrencliff Sweet Pepper
Jenroy Popsicle for Belmont
Ch. Jenroy Pop My Cork to Walkon
Ch. Tyegarth Glenmorangie of Jenroy
Jenroy Whoopsie Daisy
Ch. Jenroy Lot Less Bother
Ch. Norwatch Brock Buster
Ch. Bucksteps Bit O Bother at Jenroy
When the time came for Misty to be mated for the second time, her close relative Ch Blueprint Beern Skittles at Walkon had arrived from Australia. We very much liked Beern Skittles: Tim had given him the RCC at his second UK show and followed this up with a CC & BOB later in his career and Ivor had also given him a ticket. We also thought that the combined pedigrees would make for outstanding results. This was very close line-breeding on some amazingly dominant lines and to say that we were excited about this litter was an understatement!
The puppies arrived in August and we were delighted with what we had. From the start two males stood out from the others and so we kept Lust in the Dust and sent his brother, Double The Scotch to Jillian Plant in New Zealand where he became an Australian and New Zealand Champion as well as a good producer.
Lust in the Dust started his show career extremely successfully. He was joint Top Puppy in 1997 and he was shortlisted for the CC on a couple of occasions from the puppy classes. His first CC and BOB then came the following year at Leeds where Frank Wildman put him through from a super entry at Leeds. However, from then on his show career slowed down and we did become a little disheartened. Ozzie was such a good overall Boxer with this terrific showmanship and fabulous movement that we couldn't quite understand why he was not getting through.
Mary Foan did give him a Reserve CC at Three Counties in 1999 and Yvonne Miller gave him another at the Mancunian Boxer Club in 2001, but tickets eluded him. However we refused to give up since we truly believed him to be a very worthy titleholder and our patience and perseverance was finally rewarded at the Scottish Kennel Club in August 2002 when Margaret Everton gave him the CC and Best of Breed.
We had not planned to go to the Irish Shows a month later, but with a second CC we decided that we had to go everywhere in search of the magical third so we banged off an entry and booked the ferry. At the Irish Boxer Club on the Friday, we got nowhere but at Belfast on Saturday under Pam Broughton, Ozzie decided that it was his day. He put on a truly electric performance which we will remember forever and Pam gave him his third CC, a full 4 years and 3 months after his first. Pam's write up that day is one that we treasure. She wrote:
"This was his day. He has matured into an excellent Boxer and showed his socks off. He loved every minute of it. He has excellent angulation both ends, gun barrel front and tight feet. His head was (in my opinion) too strong as a youngster but he has grown into it and by some of the overdone heads I saw here today, his is now very good and he has the one thing missing in the entry, a wonderful expression. He motored around the ring and gave me no choice but to give him the CC"
Ozzie was a very special dog to us, with a superb personality, and he is proof positive that good dogs will always get through in the end as long as you have complete faith in them and don't give up. He died on 26 April 2010, a few months short of his 14th birthday, leaving us a wonderful legacy. Then on 6 August 2012, when his record breaking son Ch/Ir Ch Winuwuk Lust at First Sight won his 70th CC at Paignton, Ozzie became the TOP BOXER SIRE of all time having produced progeny which have won 130 CCs in the UK. This record was previously held by Ch Tyegarth Famous Grouse.

Ozzie is a very special dog to us, with a superb personality, and he is proof positive that good dogs will always get through in the end as long as you have complete faith in them and don't give up.

| | | |
| --- | --- | --- |
| Show | Year | Judge |
| CC: Leeds | 1998 | Frank Wildman |
| CC: SKC | 2002 | Margaret Everton |
| CC: Belfast | 2002 | Pam Broughton |
Many common
replica watches uk
nowadays can range between one thousand dollars and twenty thousand dollars. It is not frequently that you will find a
replica watches sale
that is six figures, as
rolex replica uk
of that caliber are often special pieces that are made for a specific occasion.
replica watches uk
are made with a multitude of precious metals, such as silver, gold, and platinum. Unfortunately, most people cannot afford such prestigious materials. Due to the fact that expensive
replica watches
are so revered and sought after, many people want them, but due to financial restrictions, simply cannot own them. For the average person, the closest alternative to a real, authentic luxury watch are Calatrava replica watches.