CH. WINUWUK MARIO BALOTELLI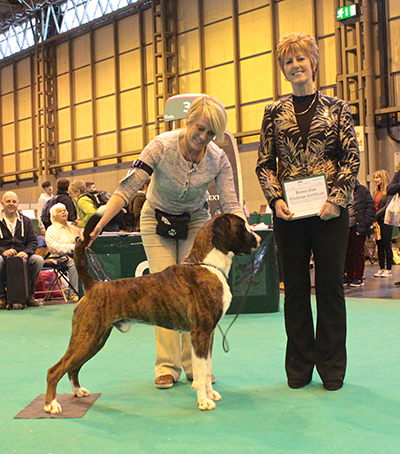 Brindle & White Dog
Born 4th July 2012
Owned & Bred by Julie Brown & Tim Hutchings
3CC'S 4RCC'S
Winuwuk Enzo Ferrari
(1CC, 2 RCC's)
Int Ch. Crom dei Centurioni at Zenmaxkay
Italian Ch. Master Dei Centurioni
Clio dei Centurioni
Ch. Winuwuk Storybook
Ch. Winuwuk Hot 'n' Bothered
Winuwuk Love Story
Winuwuk Dressed To Thrill
Winuwuk The Maverick
Ch. Designer Game at Glenauld
Faerdorn Chick Flick at Winuwuk
Winuwuk Dress to Impress
Ch/Ir Ch. Winuwuk Lust at First Sight
Winuwuk The Harlot at Thoramere
We did not have many bitches in the kennel who were suitable for mating to our CC winning outcross Winuwuk Enzo Ferrari but we very much appreciated his breeding. He is by the beautiful Italian import Crom out of our very important brood bitch Ch Winuwuk Storybook who is Lust at First Sight's mother. When it was time to mate Dress to Thrill we really felt that she was the one for Enzo. She was well made but would benefit from his compactness and we also felt that Enzo's beautifully clean head with great rise of skull would complement her.
The resulting litter was very pleasing and two dog pups stood out - a dark brindle and a golden brindle. After a bit of to'ing and fro'ing we settled on the lighter brindle. As he came up through his classes we always called him the 'second' dog since he picked up lots and lots of blue prize cards along with some other very good wins. Then at National Working & Pastoral Breeds in 2014, when he was just over two, he picked up his first CC & BOB under Marion Seeney. He also made it down to the final few in Terry Munro's very strong working group that day.
Continuing his campaign and he was a very consistent dog, always being high up in the placings. He was always going to be a slow maturer and it wasn't until the middle of 2016 that we really felt he was coming to his best. At the Welsh Kennel Club in August of that year he won his second CC & BOB from an excellent entry under all-rounder Ben Reynolds-Frost and this was a real thrill. By the end of the year he had won his way into open which he won at the Cotswold, taking the RCC from Terry Munro who had liked him in the group a couple of years previously.
He started 2017 by winning open dog at the Midland before heading to Crufts in March. There was a smashing open dog class at Crufts under Sue Drinkwater which we were thrilled to win. It was then a nail-biting wait for the challenge but Mario stepped up another gear and looked wonderful. We were delighted when he was awarded his third and qualifying CC at this most famous show. Making up a champion is always thrilling, but it is particularly thrilling to do it at Crufts.
Hot on the heels of his exciting win at Crufts, Mario was then judged best male at the annual Dog of the Year finals in 2017 under the international panel of Rick Justice (USA), Margot Egeblad (Denmark) and Barbara Morison (UK). We continued to show him in 2017 and he picked up a trio of RCCs under Tommy Dahsltrom (Germany), Karl-Erik Johansson (Sweden) and Carol Green at Three Counties. He qualified again for Dog of the Year.
We enjoyed showing Mario and we particularly like his proper rise of skull, his well formed muzzle and his beautiful expression. He has an excellent neck and shoulder giving him proper forechest and he stands on good legs. He is also a lovely profile mover, really covering the ground with very good extension and drive
| | | |
| --- | --- | --- |
| Show | Year | Judge |
| CC: National Working & Pastoral Breeds | 2014 | Marion Seeney |
| CC: Welsh Kennel Club | 2016 | Ben Reynolds-Frost |
| CC: Crufts | 2017 | Sue Drinkwater |
| | | |