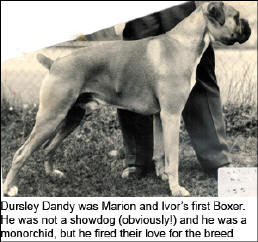 On this page, we pay tribute to the memory of Marion (always known as "Mims" by those closest to her) and Ivor Ward-Davies who founded the Winuwuk Boxers back in the early 1950s.

They put their heart and soul in to the breed, showing enthusiastically in spite of the fact that it took them many years to achieve any kind of breakthrough, importing dogs from overseas when they could ill afford it and always having faith in the next generation. Indeed, they were unique in that they were always willing to encourage younger enthusiasts and to share their dogs them. It is thanks to this amazing foresight that the Winuwuk Boxers continue so successfully today, even though Ivor died in 2000 aged 70 and Mims died in 2010 aged 86.

Ivor was always the more theoretical - a very good assessor of baby puppies, a thoughtful and popular judge, writer of some of the best Boxer articles there have ever been and always willing to pass on his wisdom to anyone who cared to listen. A little bit high maintenance, if truth be known, but a man of complete integrity, always willing to see the best in dogs no matter who owned them or what country they came from and whose knowledge of the Boxer was immense.

Mims was, quite simply, the most popular person there has ever been on the UK Boxer scene. Nothing demonstrated this better than her record at winning the voting awards at the annual Boscars. Every time she was nominated for services to the breed or for helping newcomers she won by a landslide and in 2004 she was given the ultimate accolade of 'Lifetime achievement'. Every award was accompanied by a spontaneous standing ovation. Mims loved her dogs and they loved her back in spades. She was never happier than when bottle feeding puppies or nursing one of her dogs back to health.

Mims and Ivor loved watching their dogs do well in the ring. Ivor saw the kennel take its 100th CC and Mims saw us surpass 200 CCs just a week before she died. From Dursley Dandy in the 1950s through such great Winuwuk Boxer names as Sammy in the 70s, Golly in the 80s, Misty in the 90s and Max in the noughties, Ivor and then Mims were so proud of them and everything we achieved together. Now in the twenty-tens, two new Champions and Mims knew that the last one had been made up just a week before she died. She was delighted, absolutely delighted. She always looked surprised when we won and never took any win for granted not even during recent years which she obviously enjoyed to the 'Max'. His Crufts group win was the culmination of all her hard work and for her to be there in the front row when it all happened is one of our most treasured memories. When she and Ivor imported Mack and Baron from the States all those years ago, she said they had to live on bread and margarine for months since it nearly bankrupted them. All that sacrifice paid off a 100 times over on that March evening in 2009

We will never forget how much we owe to these two wonderful people and we know that they will always be looking down on future generations of Winuwuk Boxers, checking in on how we are all doing. For the last 10 years we've often talked about what Ivor would have thought about our latest crop of Champions and now we have already started looking at puppies thinking about which one would have caught 'Mims' eye. As we continue with the Winuwuks we will hopefully have many occasions over the coming years when we will be able to say "Mims and Ivor would have loved this..