Ch. WINUWUK THE MISTRESS
3 CCs, 2 RCCs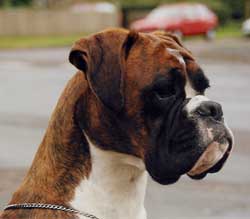 Brindle & White Bitch
Born 3 June 2000
Owned and bred by Marion Ward-Davies, Julie Brown and Tim Hutchings

Ch. Winuwuk
Lust in
the Dust

Ch Blueprint Beern
Skittles at Walkon

Jenroy Pop Back to Walkon
Aust. Grand Ch. Walkon Skittles
Ch Roamaro Scotch
Mist of Winuwuk
Ch Wrencliff Flying Scotchman of Winuwuk
Jenroy Popsicle for Belmont


Ch. Winuwuk Misty Morning

Ch Faerdorn Fineas Fogg
Ch. Bitza Shout N Roar
Faerdorn This N That
Ch. Roamaro Scotch Mist of Winuwuk
Ch Wrencliff Flying Scotchman of Winuwuk
Jenroy Popsicle for Belmont
We had always wanted to mate a Misty daughter to a Misty son and when Ch. Winuwuk Misty Morning came into season we had our opportunity. On paper it looked like a dream mating and we had high hopes.
There were two very nice brindle and white bitches in the litter but we were increasingly drawn to the golden brindle on account of her outstanding head. With her parentage, we quickly christened her 'The Mistress' for her kennel name and Tiggin for her pet name. We couldn't wait to get her in the ring.
She had some good wins in puppy, starting off with a great Minor Puppy win at Manchester on the same day that her kennel-mate Lovestruck won her second CC. However, when she got into her adult classes she decided that she didn't really like dog shows and lost her confidence in the ring. We decided to have a litter from her to give her a break and after she'd had her puppies Julie worked really hard with her, doing lots of obedience training to build her confidence back up. It worked a treat and with that obedience training behind her, she has never looked back.
She returned to the ring with a bang at the South Western Boxer Club in November 2002 where she won the CC under John Cormack and was Best in Show out of the 270 exhibits on the judgement of the referee Jackie Carter. Early in December she then won the Reserve CC from a cracking entry at the Cotswold under Christine Beardsell. Into 2003, she took a quick second ticket at the Northern Boxer Club under Janice Mair where she was also Best in Show under Arthur Butters and she won a second Reserve CC from Tony Watson at Birmingham National. She won many Limit Classes during that Summer campaign of 2003 but she had to wait until the South Wales Boxer Club in November for her title from Mary Foan and Best in Show from Lynn Llewellyn Davies. It was a great thrill to make a bitch up at three of our largest breed club shows and all with Best in Show!
We have always adored Tiggin's head and expression. We think it is the best head that we have ever had in the kennel. She has this wonderful rise, great definition, visible chin, just the right amount of work, a fabulous mouth and absolutely correct eyes. We could look at her all day. But her qualities do not stop there, she has a lovely flowing outline and very good angles at both ends with particularly good shoulders and correct forechest. We also really like the way she digs in and drives around the ring.
In addition, we have taken great pleasure from breeding a Champion from two homebred Champions - that is a real breeder's dream.
| | | |
| --- | --- | --- |
| Show | Year | Judge |
| CC: South Western Boxer Club | 2002 | John Cormack |
| CC: Northern Boxer Club | 2003 | Janice Mair |
| CC: South Wales Boxer Club | 2003 | Mary Foan |