Ch. WINUWUK MISTY MORNING
3 CCs, 1 RCC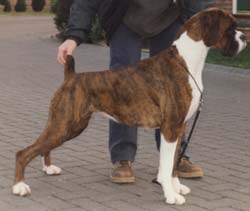 Brindle & White Bitch
Born 22nd November 1994
Bred & Owned by Marion & Ivor Ward-Davies, Julie Brown & Tim Hutchings

Ch Faerdorn
Fineas
Fogg

Ch Bitza Shout 'n' Roar
Ch Faerdorn Pheasant Plucker
Hot Hooch of Tyegarth
Faerdorn This 'n' That
Ch Rayfos Cockrobin
Sheffordian It's Magic at Faerdorn

Ch Roamaro
Scotch Mist
of Winuwuk
Ch Wrencliff Flying Scotchman of Winuwuk
Ch Norwatch Brock Buster
Ch Wrencliff Let's Try Again
Jenroy Popsicle for Belmont
Ch Jenroy Pop My Cork to Walkon
Ch Jenroy Lot Less Bother
Cassie came from Scotch Mist's very successful litter to Fineas Fogg and right from the start she was a lovely elegant bitch with beautiful flowing body lines and it was a real pleasure to see her in the ring presenting this dramatic outline. She also had a very pleasing head with her mother's eyes and a superb mouth.
Being such a good sized bitch, she took her time to come together and her campaign was made a little more difficult because her mother was still flying and her sister, Ch. Winuwuk Hazy Daze at Roamaro was also on the CC trail.
Des Kavanagh started her off with a Reserve CC at the South Western Boxer Club in 1996 on the same day that Ch. Winuwuk Jubilation won her 4th CC. After that, we always said that if Misty Morning had ended up with 2 CCs we would have kicked ourselves for taking Jubilation that day when we really needed the CC on the younger bitch! However, early in 1997, Yvonne Miller - who had always admired her from the ringside - gave her the CC and BOB at the Working Breeds of Wales.
Soon after this, we decided that Cassie would benefit from a litter, so she was mated to Ch. Winuwuk Celebration before returning to the ring to win her second CC under Val Pack-Davison at the Welsh Kennel Club in 1998. Her title then came a year later from Vanessa Rogers at Bournemouth, amid much celebrating at Winuwuk.
We always felt that Cassie was a little bit hard done by, but she was one of those bitches who either seemed to be 'first or last' as she was quite different from the prevailing style of Boxer being shown at the time. Quite correct, just a bit different. It can sometimes happen that way.
After gaining her title, we mated her to her half brother, Ch. Winuwuk Lust in the Dust. From this litter we were delighted to make up the beautiful Ch. Winuwuk The Mistress.
| | | |
| --- | --- | --- |
| Show | Year | Judge |
| CC: Working Breeds of Wales   | 1997 | Yvonne Miller |
| CC: Welsh Kennel Club | 1998 | Val Pack-Davison |
| CC: Bournemouth | 1999 | Vanessa Rogers |