CH. WINUWUK THE OUTLAW
12 CCs, 10 RCCs

BEST OF BREED AT CRUFTS 2014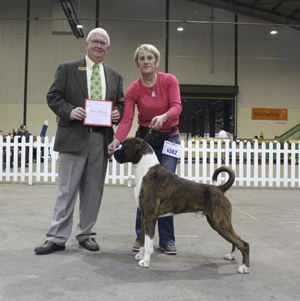 Brindle & White Dog
Born 19th January 2011
Bred & Owned by Julie Brown & Tim Hutchings
Ch. Winuwuk Lust at First Sight
Ch. Winuwuk Lust in the Dust
Ch. Blueprint Beern Skittles at Walkon
Jenroy Pop Back to Walkon
Aust. Grand Ch. Walkon Skittles
Ch. Roamaro Scotch Mist of Winuwuk
Ch. Wrencliff Flying Scotchman of Winuwuk
Jenroy Popsicle For Belmont
Ch. Winuwuk Storybook
Ch. Winuwuk Hot 'N' Bothered
Ch. Winuwuk Lust in the Dust
Ch. Winuwuk Jubilation
Winuwuk Love Story
Ch. Winuwuk Celebration
Winuwuk Love In The Mist

Winuwuk All About Eve

Ch. Designer Game at Glenauld
Glenauld Game of Skittles
Ch. Blueprint Beern Skittles at Walkon
Glenauld Genuine
Glenauld Generosa at Carmondene
Ch. Seacrest Danoli at Carmondene
Gervalmark Sweet Rose at Glenauld
Faerdorn Chick Flick at Winuwuk
Ch. Winuwuk Lust in the Dust
Ch. Blueprint Beern Skittles at Walkon
Ch. Roamaro Scotch Mist of Winuwuk
Faerdorn After the Show
Ch. Norwatch Sunhawk Showtime
Mindenwood Dark n Wicked
We were very excited when we mated All About Eve to Lust at First Sight since they were very complementary and it was a beautifully line bred pedigree. However, we really wanted a bitch puppy since we had so many good males already. There was a flashy bitch in the litter so that was obviously going to be the one we kept. We became so fixated on keeping a bitch that we basically overlooked all the males until we set them up on the table at seven weeks and a dog puppy blew us away. Square and perfectly balanced, he had this wonderful angulation, short back, lovely quarters and a very typey head. It was quite clear that he wasn't going anywhere!

Like all of our Boxers, he wasn't a quick maturer but he did well in his puppy classes, qualifying for Pup of the Year and going Best Puppy at City of Birmingham 2011 under Terry Nethercott, then progressing to win the Puppy Group under Val Foss.

The following year we had lots of males to show and his famous sire was still going great guns, so the younger boys had to take something of a backseat. However, he was in the last few for the ticket at the Anglian Boxer Club under Edna Woods (on the same day that his sire went Best in Show) and he won his first RCC at Leeds under Terry Donovan. Through the rest of 2012 he was always thereabouts, getting down to the final few in the challenge on several occasions.

In 2013 he won his way out of Post Grad and started winning Limit Classes from Windsor onwards. He was awarded his first CC by Steve Hall at the August SKC when he went on to take Group 3 under Dr Ron James.

With Il Messaggero also winning CCs The Outlaw had to go up into Open where he more than held his own. He started 2014 with a bang by winning his second CC & BOB from Andrew Brace at Manchester, he was then awarded top male at the Boxer Event by the three judges Christine Ellingworth, Meg Purnell-Carpenter and Ann Wildman but the best was yet to come.

To make up a new Champion is something special. To do so at Crufts is out of this world! On 6 March 2014 Ch Winuwuk The Outlaw was awarded his third CC and Best of Breed by Linda Carnaby. He went on to a shortlist in Frank Kane's very strong working group.
Top Boxer 2014
Show
Year
Judge
CC: Scottish Kennel Club
2013
Steve Hall
CC: Manchester
2014
Andrew Brace
CC: Crufts  
2014
Linda Carnaby
CC: South Wales Boxer Club
2014
Sue Malcolm
CC: Essex & Eastern Counties Boxer Club
2014
Yvonne Miller
CC: Working & Pastoral Breed of Wales
2014
Malcolm James
CC: Blackpool
2014
Paul Harding
CC: Driffield
2014
Steve Gething
CC: LKA
2014
Claire Kay
CC: Anglian Boxer Club
2015
Christine Ellingworth
CC: WELKS
2015
Jo Cairns
CC: Driffield
2016
Carol Chippendale
Group Placings
Group 2 Bath
2014
Kari Wilberg
Group 3 SKC (August)
2013
Ron James