Ch. KINBRA UNCLE SAM OF WINUWUK

13 CCs, 7 RCCs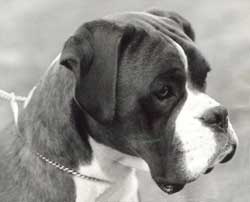 Brindle & White Dog
Born 6th April 1975
Bred by Edwin Coombs
Owned by Marion & Ivor Ward-Davies
US Import
Kreyon's Back in
Town of Winuwuk

Int Ch. Scher-Khoun's Shadrack
Int Ch. Millan's Fashion Hint
Int. Ch. Scher-Khoun's Carousel
US Ch. Kreyon's Firebrand
US Ch. Cajon's Calling Card
Bartizan's Jewel
Kinbra
Alice
Blue Gown

Kitwe Blue Mink
Int Ch. Seefeld Picasso
Willrait Copper Velvet
Kinbra Alice Springs
Gremlin Jolly Swagman
Kinbra Drury Lane
We bought Uncle Sam from his breeder, Edwin Coombs, at six weeks. Like a lot of Back in Town stock he was a slow starter and at his first show he was only 5th in his class. But at this show, he caught the eye of famous breeder, Elizabeth Somerfield of the Panfield Boxers and she had no hesitation in predicting that Sammy would become a Champion.
Uncle Sam is acknowledged as having one of the best heads that has ever been seen in the UK and he won his CCs under some highly respected breed authorities. Along the way, he had some particular highlights to his career, for example, after winning his second CC at the Peterborough Show he was introduced to the Queen Mother who was the Royal visitor that year. He was also Best in Show at the British Boxer Club's Championship Show in 1977 under the greatly respected UK all-rounder, Bobby James. In that same year, Sammy was the Top Winning Boxer male. He made one come-back appearance at the South Western Boxer Club in 1981 where he won the CC and BIS from the Austrian judge, Hansi Hoehne on the same day that his kennel mate, Ch. Winuwuk Good Golly, won the bitch CC.
Although he was not extensively used at stud, being somewhat overshadowed by the kennel's American imports, he sired a couple of Champions, Ch. Willrait Titianesque and Ch. Glenfall The Gladiator. Through the Gladiator, Uncle Sam is solidly behind many of today's top winners.
| | | |
| --- | --- | --- |
| Show | Year | Judge |
| CC: Three Counties   | 1976 | Peter Perrett |
| CC: Peterborough | 1976 | John Boyce |
| CC: Bournemouth | 1976 | Joey Royle |
| CC: British Boxer Club | 1977 | Bobby James |
| CC: Paignton | 1977 | Pat Banks |
| CC: Welsh Kennel Club | 1977 | John Hambleton |
| CC: Bournemouth | 1977 | Vivi Wilson |
| CC: National Working Breeds  | 1977 | Pat Dellar |
| CC: Richmond | 1977 | Andrew Thomson |
| CC: South Western B.C. | 1977 | Barbara Murray |
| CC: Tyne, Wear & Tees B.C. | 1978 | Reg Hill |
| CC: Scottish Kennel Club | 1978 | Dick Witham |
| CC: South Western B.C. | 1981 | Hansi Hoehne |
Experts also say that those who have
breitling replica uk
that they rarely wear should simply wind it regularly and just let it run down. Those who have special
rolex replica sale
that they regularly wear, a watch winder should be a good and convenient product to have. If you keep a
replica watches sale
winder, then you can be sure your watch runs accurately and smoothly at all times. There are actually three kinds of
rolex replica uk
winders: elegant, functional, and extravagant. These types can appeal to various watch owners and collectors. For the more expensive type, there is no limit in the options you have, such as
rolex replica sale
storage units with heaters that help maintain the watch at a standard body temperature. Some of the more popular types of
replica watches sale
winders is the Orbita brand from the United States which has advanced features like auto reverse, battery life of up to 24 months, and present number of turns in a day.