Ch. ROAMARO SCOTCH MIST OF WINUWUK
36 CCs, 16 RCCs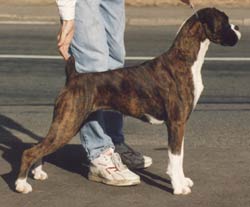 Brindle & White Bitch
Born 30th September 1991
Bred by Mandy Laidlaw
Owned by Marion & Ivor Ward-Davies, Julie Brown & Tim Hutchings
Ch Wrencliff
Flying Scotchman
of Winuwuk

Ch Norwatch Brock Buster
Ch Steynmere Night Rider
Norwatch Mustang Wine
Ch Wrencliff Let's Try Again
US Import Winuwuk Milray's Red Baron of Valvay
Wrencliff Sweet Pepper
Jenroy
Popsicle
for Belmont

Ch Jenroy Pop My
Cork to Walkon
Ch Tyegarth Glemorangie of Jenroy
Jenroy Whoopsie Daisy
Ch Jenroy Lot
Less Bother
Ch Norwatch Brock Buster
Ch Bucksteps Bit O' Bother at Jenroy
Back in the Summer of 1991, Mandy Laidlaw arrived at Winuwuk with a very pretty bitch to be mated to Ch. Wrencliff Flying Scotchman of Winuwuk. She was beautifully bred being by Pop My Cork out of Lot Less Bother and these were two Boxers that we rated very highly. The second Popsicle arrived we thought that she was an ideal bitch for Scotty. She was of excellent type, she was very tightly bred and she had no outstanding faults. She was a really honest Boxer who just needed a bit of Scotty's flash and style.
The litter was born in September and Mandy kindly let us buy in a dog and a bitch called Roamaro Scotch Mist and Roamaro Scot Free. As they grew we became more and more excited about our pups and the bitch was quickly developing into a real eye-catcher.
She made her debut at the Manchester Dog Show Society in April 1992 under Suzanne Carter where she won her Minor Puppy Class and was Best Puppy Bitch. She was then Best Puppy at Three Counties, Windsor and again at South Wales where she also won the Reserve CC and Best Puppy in the Working Group. More Best Puppy awards followed at Paignton, SKC, the Merseyside Boxer Club, Darlington and the Irish where she won her second Reserve ticket under Eddie Banks.
Having just left the Puppy Classes she won a third Reserve CC from Joe Smith at Midland Counties (runner up to our own Ch. Winuwuk Heaven Forbid, who became a Champion on the day) and then won her first CC a week later at the Working Breeds of Scotland in November under Pam Broughton. That was a very special day. She finished the year with another Reserve CC at the Cotswold Boxer Club under Canadian judge, Donna Cole.
1992 had been a very exciting start to Misty's show career and she ended the year as the Top Boxer puppy by a wide margin. She then started 1993 being the Cover Girl on the Crufts issue of the Boxer Quarterly magazine and she was soon back on a winning streak, quickly taking her title with tickets in big entries at the Midland and Scottish Boxer Clubs.
The rest, as they say, is history and the stuff that exhibitor's dreams are made of. Misty was the Top Boxer in 1993 and 1994 and she was the Top Boxer Bitch for the four consecutive years 1993, 1994, 1995 and 1996. She was Boxer of the Year at the National Finals in 1996 and she was the British Boxer Club Champion of Champions in 1997 and 2000. She won the Working Group at Bournemouth 1995 and at the LKA later that same year she won the Group and Reserve Best in Show from 13,000 under the celebrated American all-breeds judge Anne Rogers-Clark. That win was a real thrill as we had respected Mrs Clark's opinion over many years before we had the pleasure of showing under her.
She finished her show career in December 1999 in tremendous style by going Best in Show from 350 at the Cotswold Boxer Club from the Veteran Class. Over the preceding eight years she had won 36 CCs (the vast majority with Best of Breed) and this record made her the top winning brindle Boxer of all time (taking over from Ch. Gremlin Summer Storm who had 33) and the number two Boxer of all time.
But Misty is not just a (very) pretty face. She has also proved to be an outstanding producer of top quality progeny.
She had three litters. Her first, to Ch. Faerdorn Fineas Fogg, produced two UK Champions, two different sires of UK Champions, a top winning New Zealand Champion and a multiple RCC winner. Her second litter was to Ch. Blueprint Beern Skittles at Walkon and produced: a CC/RCC winner and an Australian / New Zealand Champion. Her final litter was to Ch Ashgate Able Seaman of Seefeld and this produced an Australian Champion and an American Champion.
Thanks to the great wins of her children, Misty was the Top Dam in 1998 and 1999 and she was also the British Boxer Club Dam of Merit in 1999. These awards, in particular, gave us enormous pleasure as breeders.
What is also so satisfying for us is that the dominance of her breeding is continuing through into future generations as evidenced by her grandson, Ch. Roamaro Fun in the Sun with Walkon who has recently taken the male CC record. Fun in the Sun is by Beern Skittles out of the Misty/Fineas Fogg daughter, Ch. Winuwuk Hazy Daze at Roamaro (who, most interestingly, took over from her mother as the Dam of Merit at the British Boxer Club in August 2000 and who has won countless awards since).
Scotch Mist has been a 'once in a lifetime' Boxer for us at Winuwuk and we consider ourselves so fortunate to have been able to share in her life. She is everything that we could have hoped for, both as a show girl and as a mother. She comes so close to our interpretation of the Standard that we would not wish to change her in any way. In the ring she had a stunning, balanced outline with absolutely correct angulation front and rear which is becoming so rare these days. This allowed her to move with complete accuracy from all angles and even now, at nine years of age, her movement coming and going is as true as ever. Then, to top off her many other qualities, she has an eye and an expression that completely typifies the breed and it is this fine quality in particular that she has been able to pass this on to her children and her children's children.
There is no doubt that she has earned her place in the history books as one of the few all time Boxer greats. We are pleased to record Misty's very special life on the separate remembrance page.

CHALLENGE CERTIFICATES

Show
Year
Judge
CC: WBAS
1992
Pam Broughton
CC: Midland Boxer Club 
1993
Jenny Townshend
CC: Scottish Boxer Club
1993
Ann Ingram
CC: Three Counties
1993
Valerie Garratt
CC: South Wales KA 
1993
Andrew Brace
CC: Paignton
1993
Brenda Groves
CC: Leeds
1993
Doreen Hall
CC: Irish Boxer Club
1993
Ken Broughton
CC: Trent Boxer Club
1993
Pat Heath
CC: London & Home Cos BC  
1993
Chris Cray
CC: LKA
1993
Sheila Law
CC: Scottish Boxer Club
1994
Helen Banks
CC: Manchester
1994
Tony Curtin
CC: Tyne, Wear & Tees BC
1994
Jenny Whittaker
CC: Birmingham National
1994
Marian Spavin
CC: Blackpool
1994
Cora Donoghue
CC: Driffield
1994
Ann Podmore
CC: Working Breeds of Wales 
1995
Pat Banks
CC: Tyne, Wear & Tees
1995
Julie Cook
CC: Bath
1995
Linda Carnaby
CC: Blackpool
1995
Audrey Unsworth
CC: British Boxer Club
1995
Angela Kennett
CC: Bournemouth
1995
Raymond Beattie
CC: Welsh Kennel Club
1995
Mary Hambleton
CC: South Wales Boxer Club 
1995
Sheila Cartwright
CC: Cotswold Boxer Club
1995
Yvonne Miller
CC: LKA
1995
Mary Foan
CC: Scottish Boxer Club
1996
Terry Collicut
CC: Crufts
1996
Ann Podmore
CC: Northern Boxer Club
1996
Ferelith Somerfield
CC: Mancunian Boxer Club
1996
Suzanne Carter
CC: WELKS
1996
Margaret Everton
CC: Scottish Kennel Club
1996
Joe Smith
CC: Border Union
1996
Denise Mastaglio
CC: Cotswold Boxer Club
1996
Chris Ellingworth
CC: Cotswold Boxer Club
1999
Johan Kieser

GROUP PLACINGS

Reserve Best in Show: LKA
1995
Anne Rogers Clark
Group 1: LKA
1995
Anne Rogers Clark
Group 1: Bournemouth
1995
Clare Coxall
Group 4: SKC August
1996
Margaret Everton
Boxer of the Year
1996
Jenny Townshend, Helen Banks, Joy Malcolm
It is also necessary to consider ease of use and the quality of the workmanship. Cheaper
replica watches uk
winders can be noisy. For watch box or case, consider how it will be used. Will the owner be traveling with it? Then look for sturdy, secure construction. Is the owner a
replica watches sale
collector who enjoys displaying his or her collection? Then choose an elegant model with a clear glass lid. Check the quality of the hinges and examine how well the lid closes. If the
replica watches sale
box is meant for travel, make sure the unit closes and locks securely.Self-winding mechanical
rolex replica sale
are also known as automatic watches. These watches require a
rolex replica sale
winder in order for it to run appropriately. Automatic watches have to be worn consistently since they rely on the mechanical weight located inside the watch.