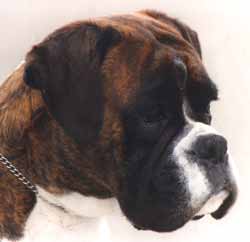 The loss of a dog is always such a personal thing that it does not seem right to share it on something as impersonal as a website. But on a few occasions in a lifetime very special dogs come along that touch so many people beyond their own home that the news has to be shared. Misty was one of those special Boxers.
She was born on 30 September 1991, bred by Mandy Laidlaw and sired by our own Ch Wrencliff Flying Scotchman of Winuwuk out of Jenroy Popsicle for Belmont.
She first entered the ring at Manchester Championship Show in the Spring of 1992 where she was Best Puppy Bitch under Suzanne Carter and from then on she enjoyed a sensational puppy career. She won her first Reserve CC at 8 months, another at 11 months and she was the Top Winning Boxer Puppy in 1992 by a mile.
Pam Broughton gave her a first CC up in Scotland when she was just 13 months and her title quickly followed with CCs from Jenny Townshend and Ann Ingram.
In 1993 she was the Top Boxer and she repeated this in 1994, notching up many CCs.
She remained the Top Winning Boxer Bitch in 1995 and this was her finest year: as well as winning a load more CCs (including Best in Show at the British Boxer Club) she beat 4,000 dogs to win the Working Group at Bournemouth and she then finished the year by beating 13,000 dogs to win the Working Group and Reserve Best in Show under the famous American judge Anne Rogers Clark at LKA
In addition to this, it was in 1995 that she took the record as the Top Winning Brindle Bitch of all time from our own Ch Winuwuk Good Golly, who had held it for many years.
1996 still saw her on top and she was Top Boxer Bitch for the fourth year running. It was also in this year that she took the record as the Top Winning Brindle Boxer of all time and, having achieved this, it was time to take a back seat to our younger stock.
She made one final appearance in the ring at the Cotswold Boxer Club in December 1999 where she won the CC and BIS from Veteran in an entry of over 350. After that win, aged 8+, we said that she would never ever be shown again, and she wasn't. She retired right at the top, as she deserved.
She ended her show career with the following record:
36 CCs
Brindle record holder and runner-up to the breed record holder
Top Puppy 1992
Top Boxer 1993 and 1994
Top Boxer Bitch 1993, 1994, 1995, 1996
Champion of Champions 1997 and 2000
National Dog of the Year 1996

However, what we are even more proud of is the fact that she was also an outstanding producer. She had just three litters and these produced the following:
By Ch Faerdorn Fineas Fogg
- UK Ch Winuwuk Misty Morning
- UK Ch Winuwuk Hazy Daze at Roamaro (the Top Dam for the last few years and the Top Dam in the whole Working Group, 2002)
- NZ Ch Winuwuk Play Misty for Me
- Winuwuk Dizzy Drizzle on Filrosma (2 RCCs)
- Winuwuk Wise Guy at Shiloh (sire of several UK Champions)
- Winuwuk Highland Mist at Glenauld (sire of UK & overseas Champions)

By Ch Blueprint Beern Skittles at Walkon
- Ch Winuwuk Lust in the Dust (the sire of many UK Champions / CC / RCC winners)
- Aus & NZ Ch Winuwuk Double the Scotch

By Ch Ashgate Able Seaman of Seefeld
- Aus Ch Winuwuk Plane Sailing
- US Ch Winuwuk Sea Breeze

Thanks to her outstanding children, Misty was the Top Dam in the breed for several years and she was the British Boxer Club's Dam of Merit before handing the award over to her own daughter who was Top Dam in the whole Working Group in 2002.
The extent of her influence on the breed can best be illustrated by a review of the main award winners at the recent National UK Dog of the Year finals: her daughter was Top Dam; her grand-daughter was Top Boxer and Top Bitch; her grandson was Dog of the Year and Top Boxer Male and her great-grandson was Top Puppy.
To have a great show dog is one thing; to have a great producer is another thing; to have a Boxer with a fantastic personality is another. To get all three together, in one package, in one special Boxer is something else. Misty was that person.
She had not been ill in her entire life until 7pm on 28 April when she suffered a gastric torsion. Despite an attempted operation to give her a chance, she never came round and she died just before midnight, aged 11 years and 7 months, ending an era.
The Orbita brand is available as a dual, single, or multiple capacity device. There are also the
rolex replica sale
winders which come in a lot of options ranging from cheap winders to excellently crafted winders with modern features. Rolex also has
replica watches
winding models that can accommodate up to 10 wristwatches in just one device. Meanwhile, Steinhausen
rolex replica sale
winders boasts of beautifully manufactured bodies, and make use of precision engineering. The brand also boasts of models with
replica watches sale
front for convenient viewing, protecting the timepiece from dust. Wolf watches meanwhile produce
replica watches sale
winders which can wind in three directions- bi-directionally, clockwise, and counterclockwise.
The first person we told said "Everyone who knew the breed wanted a Misty". There can be no finer compliment than that.
Once in a lifetime, if you are very lucky, you get a Misty. We cherished her for every moment that she was with us and she lives on through her children, her grand-children and beyond. Her place in history as one of the most outstanding Boxers of all time is assured.