Ch. WRENCLIFF FLYING SCOTCHMAN OF WINUWUK

10 CCs, 4 RCCs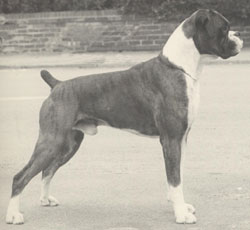 Brindle & White Dog
Born 9th March 1984
Bred by Maureen Best
Owned by Marion & Ivor Ward-Davies and Julie Brown

Ch. Norwatch
Brock Buster

Ch. Steynmere Night Rider
Aust. Ch. That's Right of Panfield
Ch. Kalendar's Gold Mink of Steynmere
Norwatch Mustang Wine
Liedeberge Ramsey
Gremlin Soft Steps
Ch. Wrencliff
Let's Try
Again

US Import Winuwuk Milray's
Red Baron of Valvay
Int Ch. Scher-Khoun's Abednego
Milray's Flame of Candelwood
Wrencliff Sweet Pepper
Ch. Kinbra Uncle Sam of Winuwuk
Wrencliff Sweet Spot On
Bred by Maureen Best out of her lovely Baron daughter, Let's Try Again (who was Top Boxer 1981), Scotty came to Winuwuk when he was 6 months old. At his first Championship Show under the American judge, Harriett Campbell, he was Best Puppy in Show.
He soon developed into a real stallion of a Boxer, but with the most gentlemanly yet outgoing temperament you could wish for. He won his first CC at Blackpool and went straight through to take the Working Group under Violet Yates beating over 3,000 other dogs. He was the joint Top Winning Boxer male in 1988 and he won his CCs under Dutch, American, Austrian, English and Australian judges. Also, before he won his title, he won the Reserve CC at the South Western Boxer Club under the legendary Mrs Phoebe Harris who owned the Sirrah Crest Boxers in America. That win, on such a young dog, was a great thrill.
He had a very limited stud career because he had a suspected PA carrier in the fifth generation of his pedigree and so he had to undergo an extensive series of test matings before he could be used at public stud. However, he was eventually cleared, and several good bitches came to him. He sired a couple of Champions in the UK including our own record breaking Ch. Roamaro Scotch Mist of Winuwuk. He also sired several overseas Champions including one in Sweden and one in Canada. More importantly, his influence has been felt in subsequent generations and he is solidly behind all of our latest Champions.
Scotty was one in a million and it was a very sad day when he died early in 1996, just short of his 12th birthday.

CHALLENGE CERTIFICATES

Show
Year
Judge
CC: Blackpool
1986
Bobbie Singleton
CC: Tyne, Wear & Tees B.C.
1987
Lynette Davey
CC: Bath
1987
Mary Foan
CC: National Working Breeds  
1987
Norma Brook
CC: Merseyside Boxer Club
1987
Lianne Dimitroff
CC: Mancunian Boxer Club
1988
Anton Renders
CC: Border Union
1988
Pat Heath
CC: South Wales K.A.
1988
Cora Donoghue
CC: South Western B.C.
1988
Hansi Hoehne
CC: Cotswold Boxer Club
1988
Terry Collicutt

GROUP PLACINGS

Group 1: Blackpool
1986
Violet Yates