CH. WINUWUK SOLANA AT PINEDOWN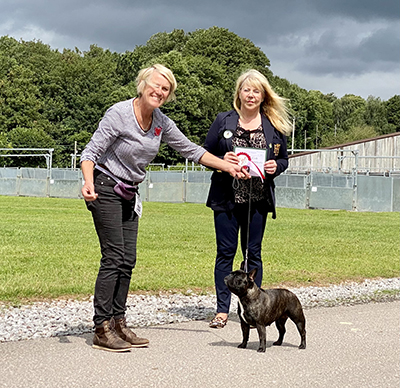 Brindle Bitch
Born 13th November 2018
Bred by Julie Brown & Tim Hutchings
Owned by Jane and Nicola Lovell
3CC'S
Ch Senorito De la Virennya with Huggerbulls
Ch Famous de la Parure
Ch Confucious de la Parure
Lucie dei Mieiocchi Dell'akris
Spolbo Stela Maris
Ch Gregorio de la Parure
Avigdors Fira Firuzi Fiori
Ardhub Who's a Smartie
Brandoux King of Clubs Avec Carminway
Zon Mireki Nash
Bully Star Kelly at Brandoux
Chalfs RU Friends of Dorothy Ardhub
Ch Jafrak Pistols at Dorn
Bredwardine Ooh La La at Chalfs
Like Ch Winuwuk Smartypants we did breed Solana in as much as the mother was in our name at the time the litters were born, but real credit for breeding both should go to Grant Slater (Chalfs).

Solana is bred exactly the same way and was born on exactly the same day as Smartypants - lucky 13th November - but three years apart. We were still showing Smarty at the time and so we didn't really need another sister but we knew that our good friend Nicky Lovell was looking for one so we gave her first option. We remember the day that she picked her up very clearly. Nicky hadn't broken the news to her mum Jane and didn't know whether she was doing the right thing - so much so that she burst into tears on the doorstep! But it was obviously meant to be and both Jane and Nicky are Frenchie converts though Julie does the handling.

Gloria went through a short 'ugly duckling' stage as a baby puppy but that soon passed and she shocked and delighted us by winning the BCC from the puppy class under Ernie Patterson at Leeds in 2019. She was only 8 months old! She then continued to do well and very nearly won the RCC under Frank Kane at the French Bulldog Club of England Championship show later in the year. Not long after, lockdown hit and her show career was put on hold for 14 months. However, once shows started up again she didn't waste any time getting made up. She won her second CC at Paignton under Vanessa Wegmann-Williams and her crowning third at Richmond under Sue Worrell.

| | | |
| --- | --- | --- |
| Show | Year | Judge |
| CC: Leeds | 2019 | Ernie Patterson |
| CC: Paignton | 2021 | Vanessa Wegmann-Williams |
| CC: Richmond | 2021 | Sue Worrell |
| | | |