Ch Lichdel Uncle Silas to Winuwuk

4CCs, 3 RCC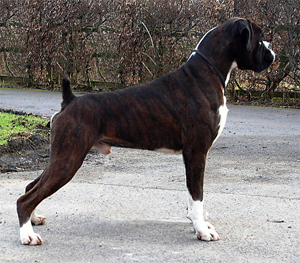 Brindle & White Dog
Born 19th January 2007
Owned by Marion Ward-Davies, Julie Brown & Tim Hutchings
Bred by Edith Tindale

Ch. Winuwuk Lust in the Dust
Ch. Blueprint Beern Skittles at Walkon
Jenroy Pop Back to Walkon
Ch. Jenroy Pop My Cork to Walkon
Ch. Jenroy Lot Less Bother
Aust. Grand Ch. Walkon Skittles
Ch. Glenfall The Gladiator
Ch. Walkon Smash 'D Again
Ch. Roamaro
Scotch Mist
of Winuwuk
Ch. Wrencliff Flying Scotchman of Winuwuk
Ch. Norwatch Brock Buster
Ch. Wrencliff Let's Try Again
Jenroy Popsicle For Belmont
Ch. Jenroy Pop My Cork to Walkon
Ch. Jenroy Lot Less Bother
Lichdel Sapphire
Laywind Tumbling Dice out of Lichdel
Lichdel Neapolitan
Ch. Tonantron Glory Boy
Pearl Tiara of Alexval
Belmont Lizawake of Laywind
Belmont the Equalizer
Jenroy Fly By Night
Lichdel Solitaire
Lichdel Gambling Man
Ch. Hilthorn Gold Blend
Lichdel Hidden Pearl
Lichdel Kazuri Belle
Laywind Tumbling Dice out of Lichdel
Lichdel Kazuri Pearl
We first saw Leo at the Tyne, Wear and Tees Boxer Club in May 2007 when he was just 12 weeks old. His breeder Edith Tindale had brought him along to her local show so that we could have a look at him. We immediately fell for him and offered to buy him but he was not for sale. Even at that young age his potential was obvious.

At one of his first shows, the British Boxer Club Championship show in July, Tim gave him a very strong Minor Puppy dog class. Then in October at Midland Counties Julie gave him Puppy dog, had him in the last four for the CC and was very tempted to take him further, but he was still only a very young dog.

Then in December Edith phoned us up and explained that she was not going to be able to get to as many shows as she would like but she felt that Leo deserved to be campaigned seriously. We were over the moon when she asked us if we still wanted to buy him and we drove up the following week to collect him!

Of course at the same time we had Lust at First Sight in the middle of his fabulous show career but Leo did extremely well as he quickly worked his way through the younger classes, often being in the last few for the CC.

His breakthrough came in October 2008 he won his class at Driffield under Amanda Jinks who then went on to give him his first CC and BOB. Early in 2009 he won a Reserve CC under South African judge Marlien Heystek at the Northern and he notched up a good number of wins in Limit often making it down to the final few for the CC which Max often won! Over to the Irish Boxer Club in September where we were delighted when Johan Kieser, also from South Africa gave him his second CC and BIS from one of the biggest entries the Irish Boxer Club has ever had. More Limit wins followed through to the end of 2009 which meant that he would have to compete in Open in 2010.

At the first show of the year, Manchester under Meg Purnell-Carpenter, Max couldn't go since she gave him the ticket last time. Leo stepped manfully into his shoes, winning Open dog, the CC, Best of Breed and also Group 4 under Jack Bispham. This made him our 20th UK Boxer Champion and we were delighted. Leo won his 4th CC from Jeff Luscott at the Mancunian and a final RCC from Claire Kay at Richmond in 2012

Leo had the most fantastic Boxer personality being extremely outgoing but certainly willing to stand up for himself and the family. He had a beautiful head and expression with lovely eyes and excellent pigmentation.

We were delighted to have a dog of this quality at Winuwuk and we thank Edith for entrusting him to us.

CHALLENGE CERTIFICATES

Show
Year
Judge
CC: Driffield
2008
Amanda Jinks
CC: Irish Boxer Club
2009
Johan Kieser
CC: Manchester
2010
Meg Purnell-Carpenter
CC: Mancunian Boxer Club
2010
Jeff Luscott

GROUP PLACINGS

Group 4: Manchester
2010
Jack Bispham